Georgia Wilderness Society

Grand Bay Swamp

The Grand Bay Swamp is an area of both cypress and prairies which lies hidden just outside of Valdosta, Georgia.  Although it is a fairly short paddle, there are many areas to explore.  Our spirits were hardly dampened by the nearly constant misting and sprinkles.  The beauty and majesty of the swamp easly overpowered our slightly soggy clothing.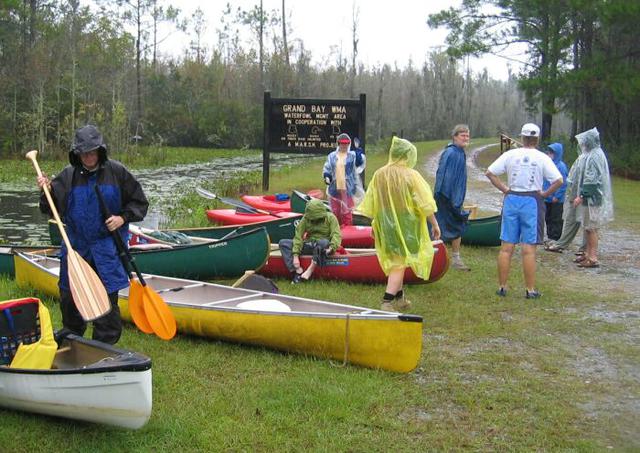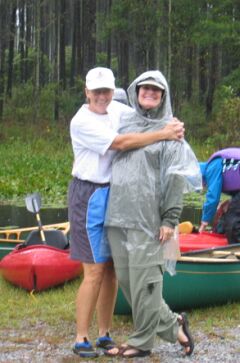 Bonnie gives Cheryl a big bear hug as the GWS crew prepares to start the Saturday paddle in Grand Bay Swamp..all donned in our raingear. 

Pictured, left to right, are: Tom Payne, Gaye Collins, Susan Barrett, Denise Smith, Chris Milner, Bonnie Gehling, Rita Collins, Cheryl McLendon and Tommy McLendon.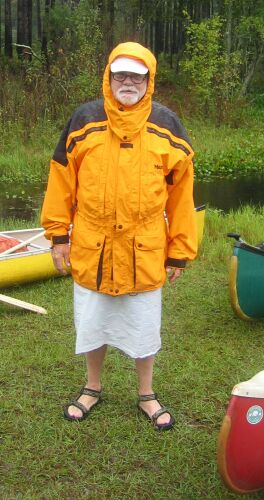 John Houser didn't want to get his shorts wet, so he set the fashion world on its ear by converting a plastic trash bag into a rain skirt.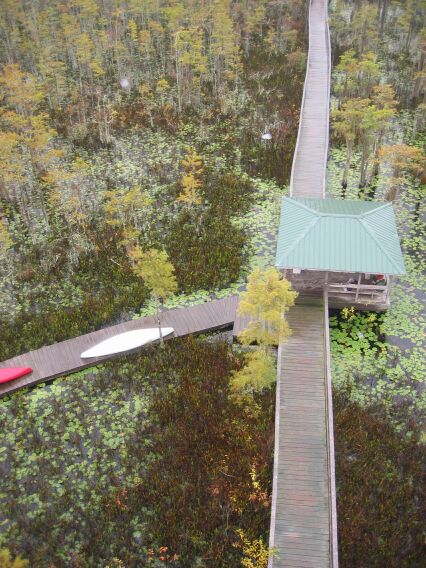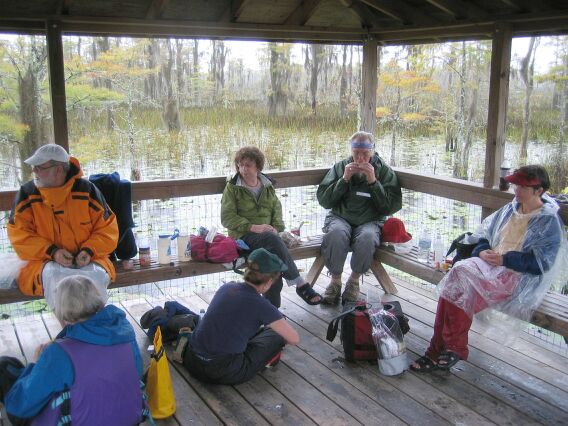 Our lunch stop at the Kinderlou Tower was a nice break from the short paddle.  Pictured below (left to right) are John Houser, Jean Feitshans, Rita Collins, Faye Collins, John Kraus, and Susan Barrett.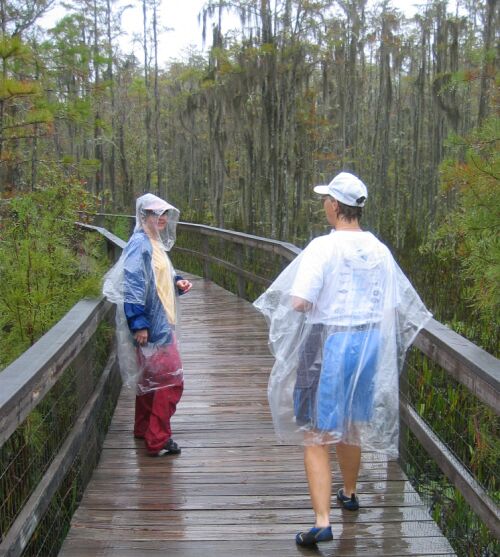 After lunch, we wandered down the boardwalk that we had paddled out to, and took in some of the sights.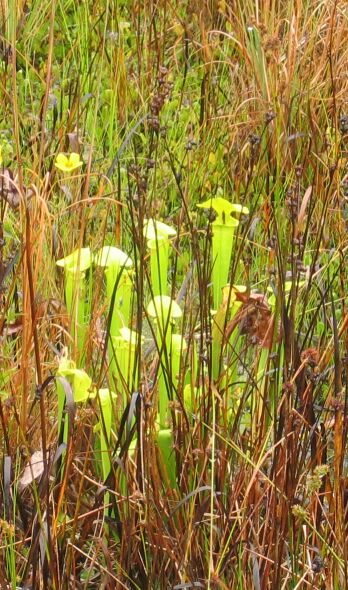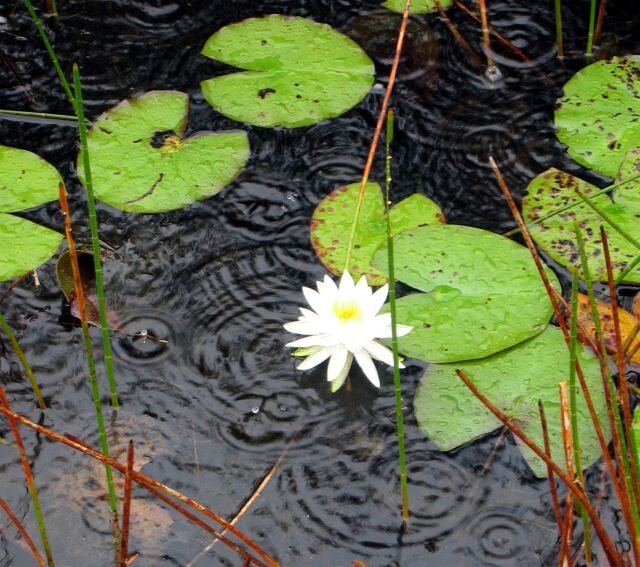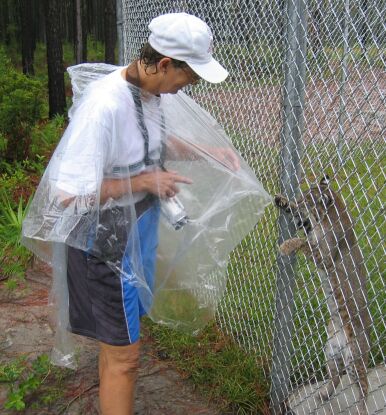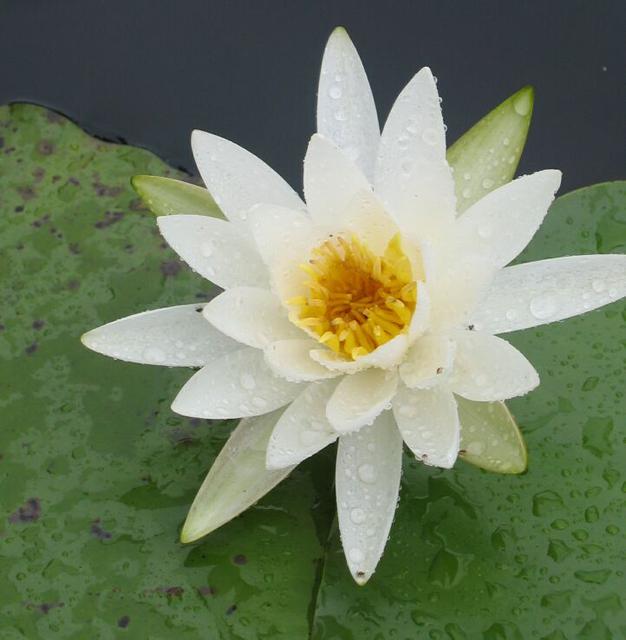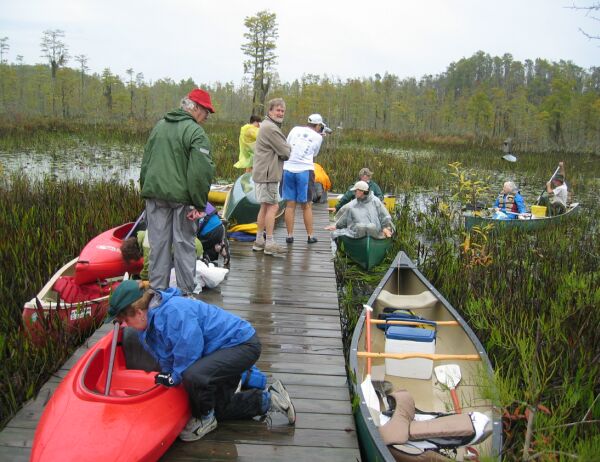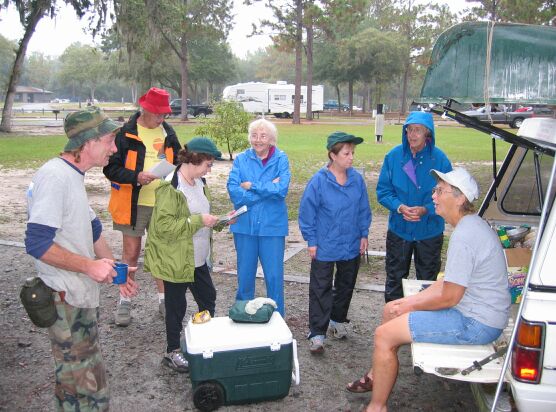 Bonnie is so good at making friends.  This little bobcat was fascinated by her poncho....ok, so it was actually Chris Milner's poncho...but that is another story...before Bonnie knew it, the bobcat had a claw into the poncho!

After our exploration of the platform and walkway, we bailed out our boats and headed out on a loop through the prairie area of the swamp.

Below, at the Reed Bingham State Park campground, a few GWS members enjoy looking over some photos that Cary took on our recent outing to Sapelo Island. 

As we left the campground, we took the time to visit the pioneer area and found a gem.  Pioneer camping site #1 is really nice.  Although it doesn't have running water and only a pit toilet, it was wonderfully spacious, isolated, and has an almost private dock onto the lake.  The next time we go, we will have to consider staying here!  It was hardly used from the condition of the fire-ring and even the toilet was nice....as far as pit toilets go.  We also looked at the map and could possibly do a short canoe trip (2.8 miles) down the Little River from Roundtree Bridge Road to the campsite and then beyond to the lake for another mile or two..

This page has several photos, and might take a few minutes to fully load on some dial up connections.  If it times out and falters, please hit your reload button in your browser.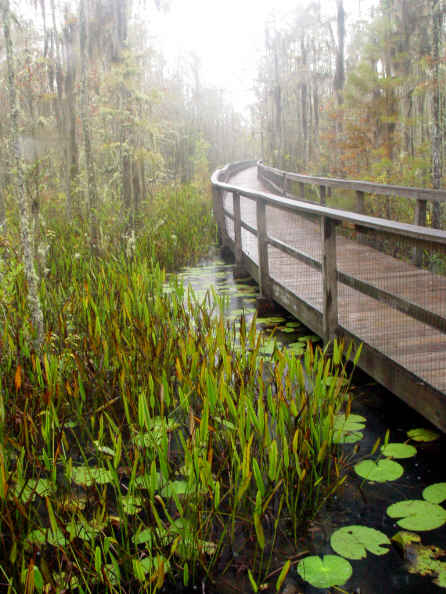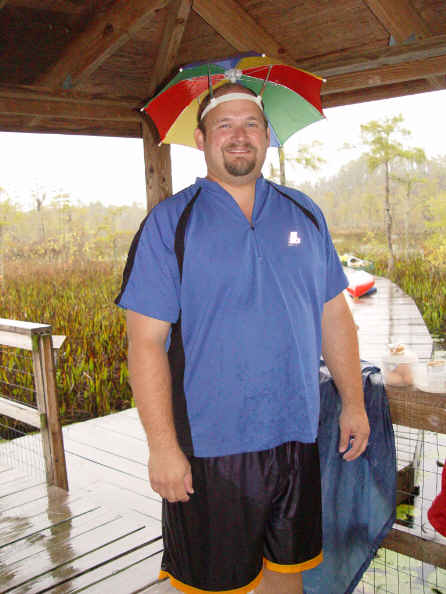 Chris Bryson displays the latest in rainproof swampwear.