Georgia Wilderness Society

Appalachian Trail Hike 2012

Rock Gap to Wesser/Nantahala Outdoor Center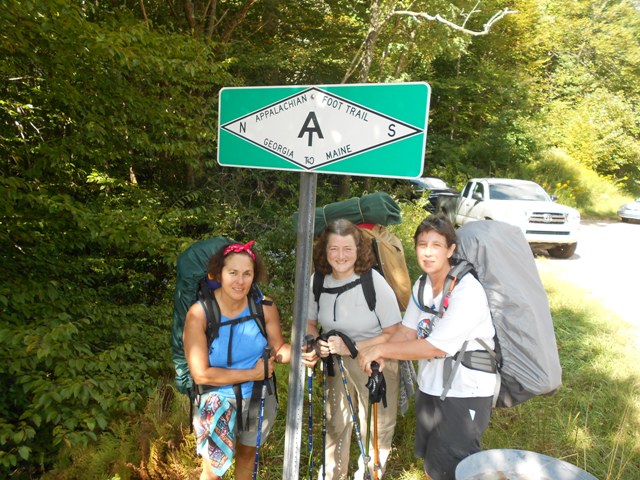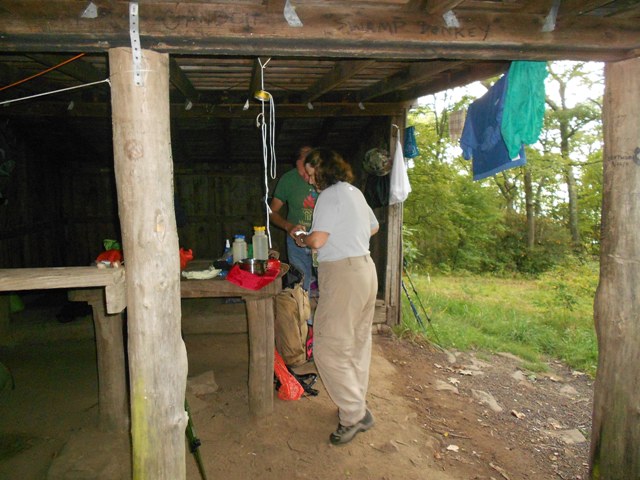 Well another 30 miles down for the AT trips. We set off

with 6 brave old souls. Curt, Irene, Joe, Everett,

Margaret (Old Girl) and me (Shirl,Old Girl). We started out

at Deep Gap, heading to Wesser, our first long 30 mile trip

in North Carolina. The weather was perfect all weekend, not

one drop of rain and no sweltering heat, just perfect.

Joe and I waited at Deep Gap while Margaret went to fetch

the other fellow hikers. While we waited, we ate the souper

douper sandwiches that Joe brought. About the time the

others arrived, we met two hikers that were going up to

Virginia, one guy was from Texas and the other was from

Winston Salem NC. While we were hiking, we met our first

Ginseng Hunter. He was nice enough to talk to us and showed

us some ginseng. He said that it cost $40.00 for a permit to

pick a lb. of the root and he could sell it for $250.00 a

lb. No wonder this root is sought after. I also know it is

beginning to be over harvested. That is why they have it

protected and you have to get permits.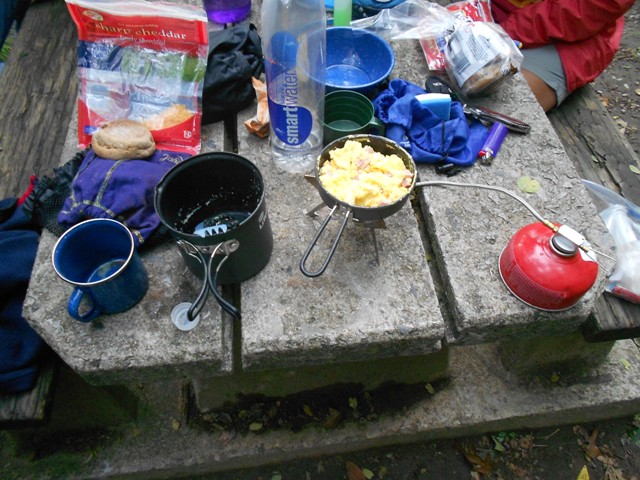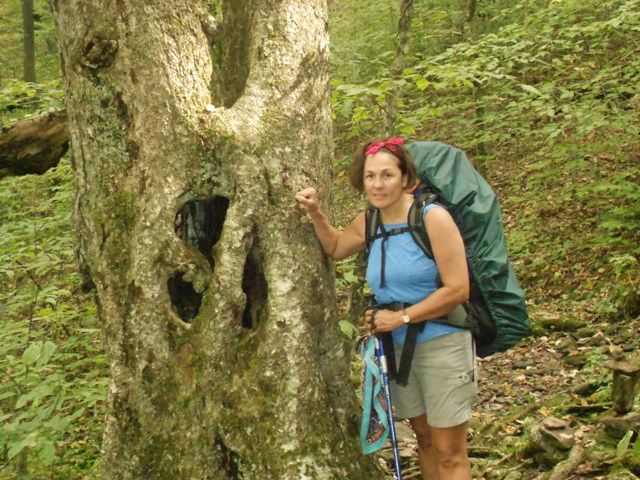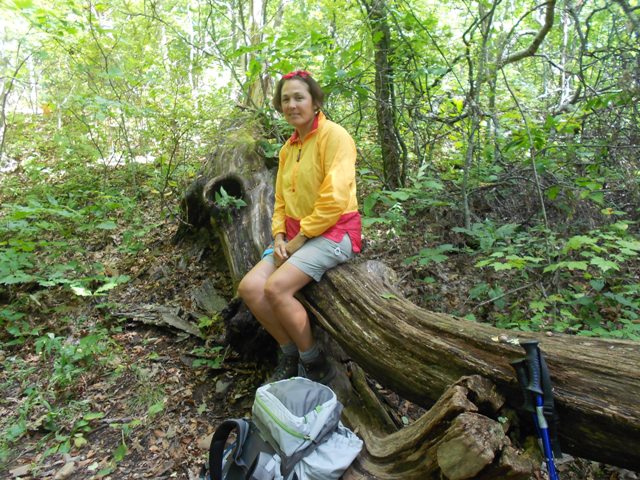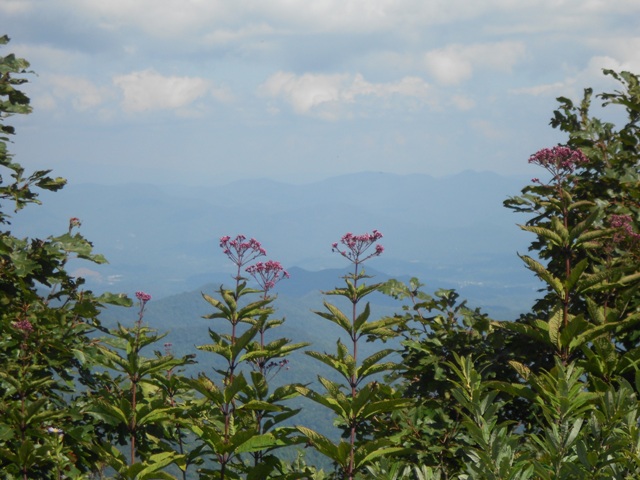 We made it to our

first shelter at Siler Bald, after about 7 miles. We all set

up camp, ate and hit the sack...long day for some of us.

Friday morning-doing another 7 miles to the next shelter.

Trail was long and continuous up hills, but really nice

weather. Stayed at Wayah Shelter that night. We had a small

fire thanks to Curt and Irene. Hung up all the food, so I

thought, until the next morning and realized I had forgotten

Margaret's, and the mice let me know the mistake I made.

Realized that on section hiking you're allowed to make

mistakes, but if this were a through hike, could be a mistake

that could be bad if food was low and it took a while to

replenish. Section hiking is for learning. Friday night was

the last night of summer. You could hear the wind blowing

all night like it was pushing summer out of the way, to make

way for fall. Hard to sleep in all that wind, but next

morning fall arrived and ten miles were ahead of us.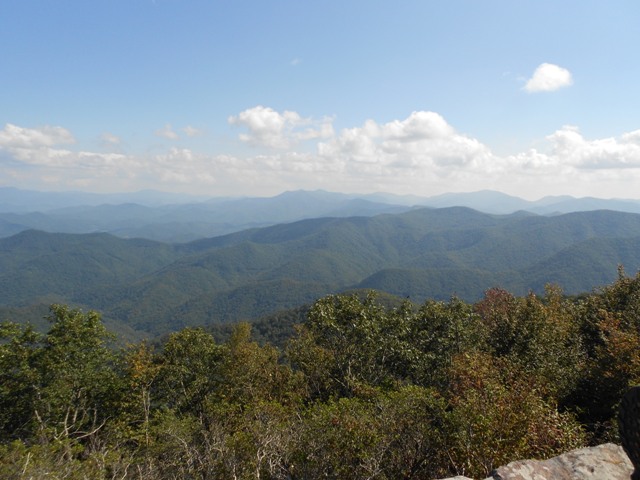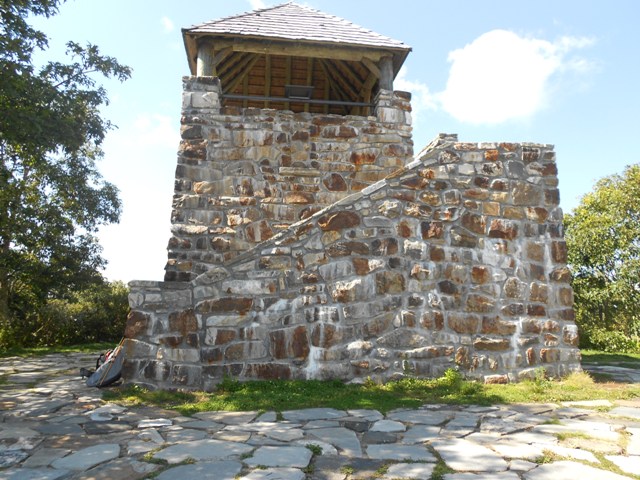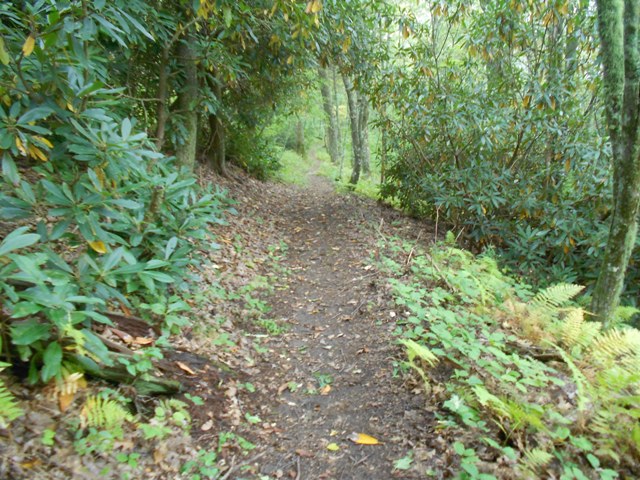 Sat.- trying to get a head start on the day. Still only

ended up leaving 30 mins earlier and we had ten miles to go.

Weather still great...nice cool breeze, all the fall flowers

like golden rod, blue asters, New Jersey Tea were in bloom.

Met our first thru-hiker from PA. He talked to us for a

minute.  His trail name was Togo. Started in June, was headed

to Springer, fast hiker. He said he was a retired Navy Pilot

and schedule time for the trail, since he was now a self

employed contract pilot. One thing I would ask people on the 

trail was if they were thru-hikers, section hikers or day

hikers, also what they did before hiking that allowed them

to hike the trail. Some where self employed, out of

school (doing the trail before they got into the working

world), or work was slow, so they took time to live their

dream. Also that day I meet my first mushroom hunter. He was

out hunting Hen of the Woods mushrooms. Did ask him if he

was an old mushroom hunter or a

bold one. He stated he use to be bold but now he was just

an old one.

One thing I learned on the trail--you can ask

people, either hikers or locals, things and they don't mind

talking to you. The trail slows you down enough to let you

get to know people. Made it to our shelter, Wesser Bald.

Long day, one person on the hike said it would be a fairly

easy hike. No, it was long, continuous ups and rooty downs,

slow going, but we all did it.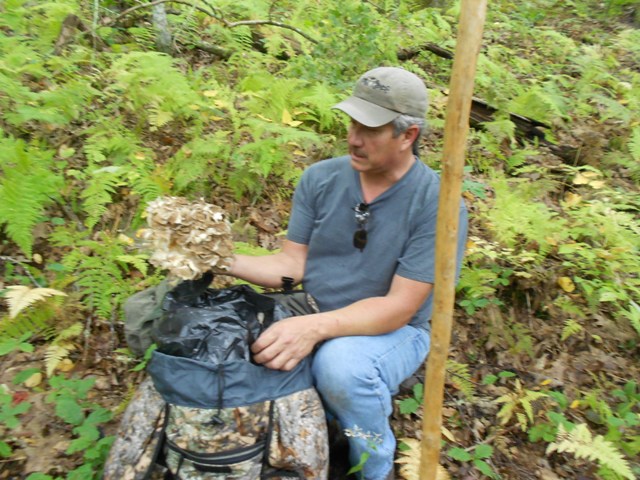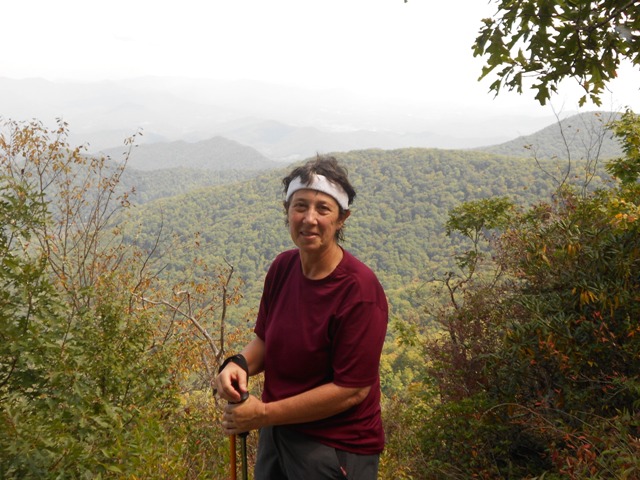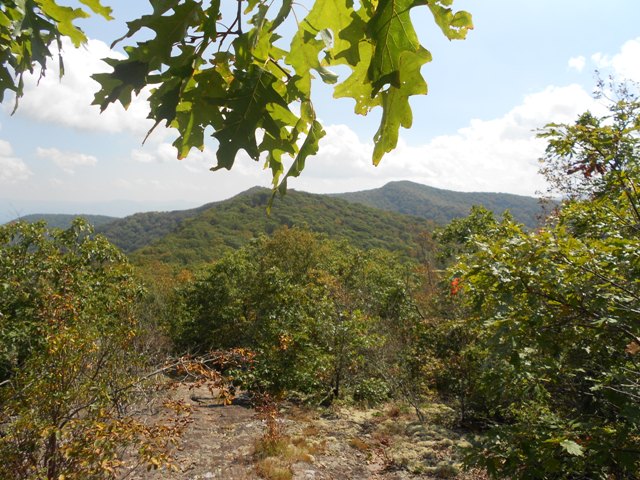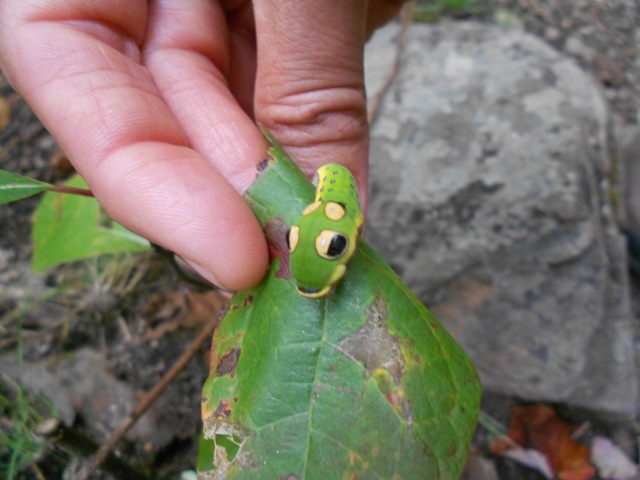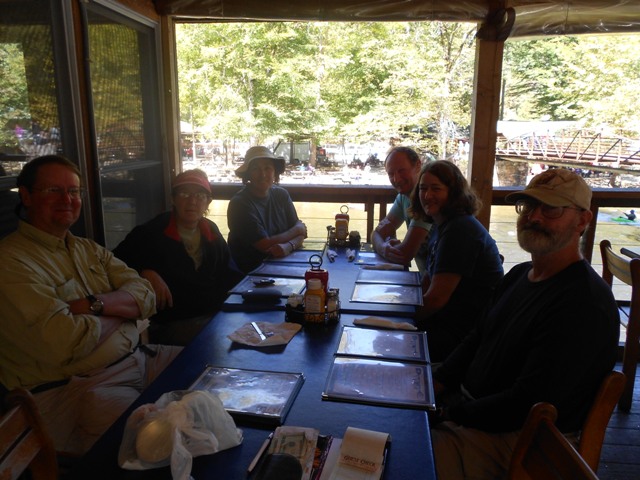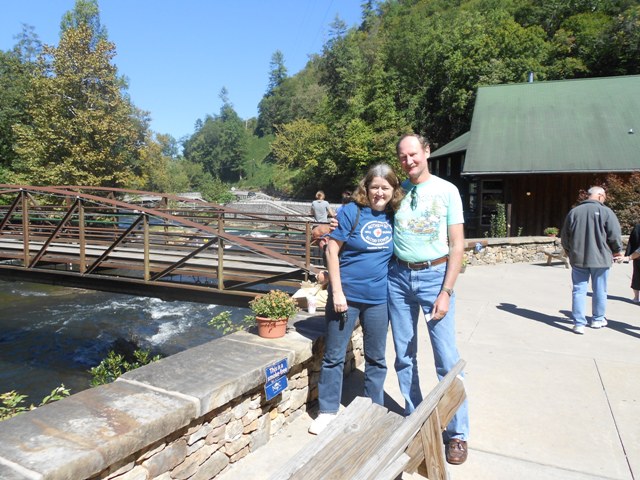 Sun.- last day and only about 5-6 miles to go before we got

to Wesser and enjoyed our hamburgers and pizza and Sherpa

with coffee and cokes. Alot of beautiful scenery. Especially

at the Jump-Up. It was a climb, but sometimes the best

things you get to enjoy are the toughest. It was great being

as high as the birds. Something else I learned on the trail--

when you're out there, you try to get back to the basics of

life, you enjoy the simple pleasures around you. The people

you meet may come from different walks of life, but when

you're on the trail, you seem to all be the same, you're no

older than they are and no higher in society, you're just out 

there 'cause it's a dream you have when you are young or

older. You're just doing it. Hopefully you see it through or

at least can say, you tried.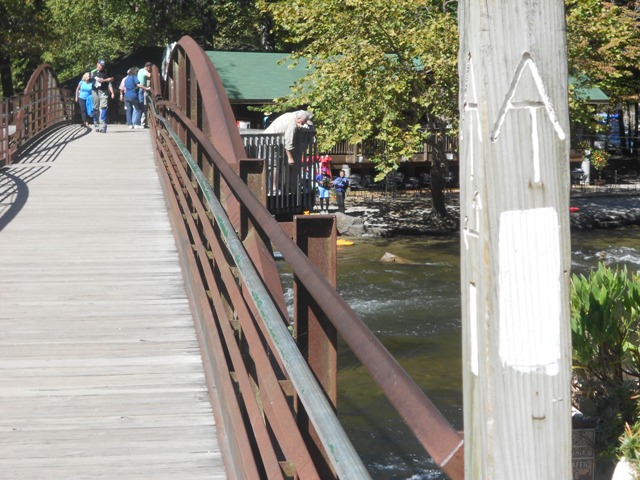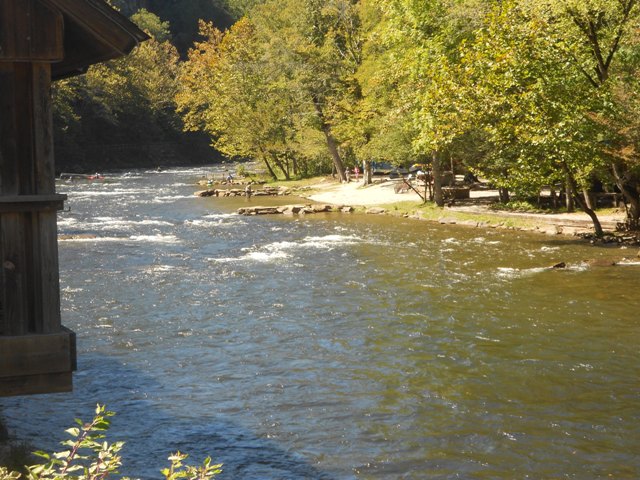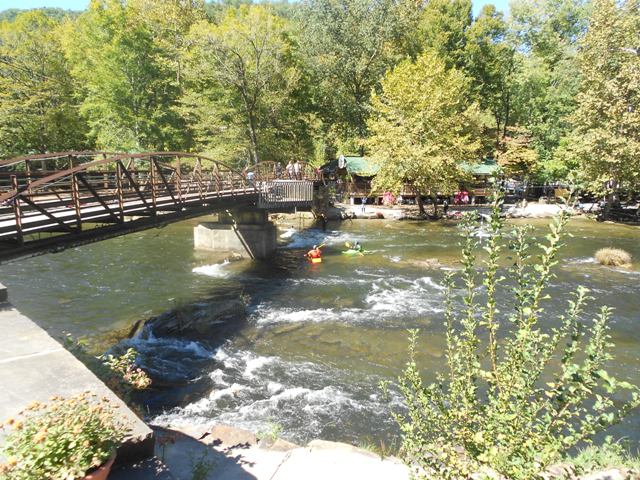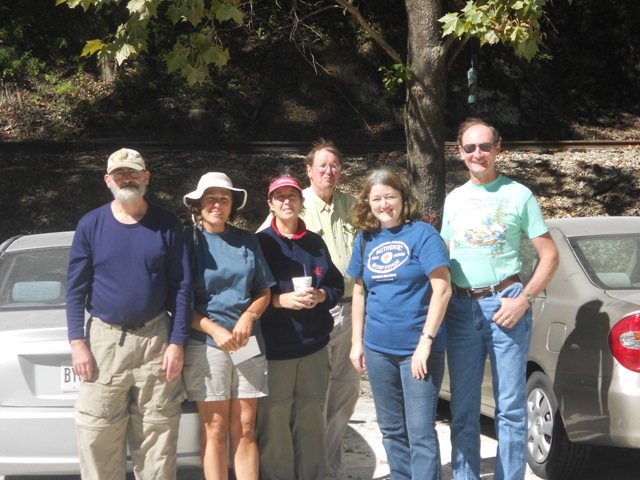 Well, until next spring. Happy Trails. From Two Old Girls and thanks again for those that

come along even though we sometimes wonder why we do it.

Just like having a baby, after the pain is forgotten, you're at it again.